CNC Spinning
CNC Spinning fixes the flat blank or preformed blank to the rotating mandrel, applies pressure to the blank with the spinning wheel, and the spinning wheel is fed axially at the same time. After one or more processing, various thin-walled hollow rotary products are obtained
For decades, CNC Spinning has been a core component in making durable, lasting products. It plays a role in many industries, from automotive to aerospace and beyond. Our expert metalworkers have the experience you need to CNC Metal Spinning for any application. Even more, we only use high-quality materials to match our exceptional service.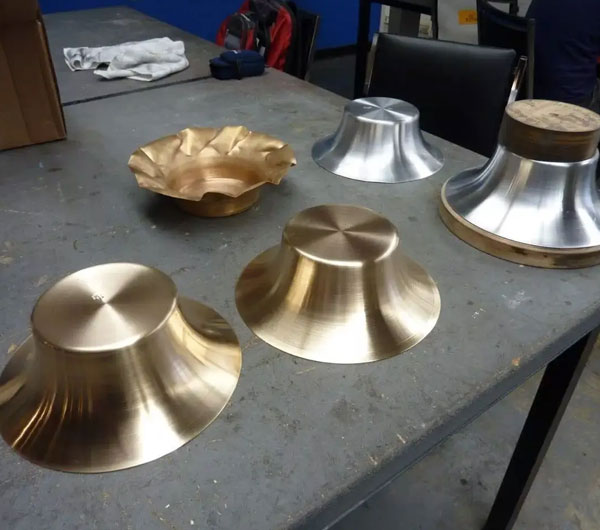 CNC Spinning Material
Aluminum
Steel
Carbon Steel
Stainless Steel
Brass
Copper
High temperature alloy
nickel alloy and sheet metal
CNC Spinning Services & Applications
Capable of spinning parts with up to 72 in. diameter, +/- 0.0031 to 0.094 in. tolerance for commercial applications, and +/- 0.001 to 0.045 in. tolerance for special applications.Available in various sizes and shapes including:
Dished
Domed
Flanged
Hemisphere
Semi-elliptical
Tube cap
Trumpet
Advantages Of CNC Spinning
Prototype CNC Spinning provides several benefits that make it suitable for a variety of applications:
The spinning process uses specialized machinery to achieve the right specifications. For example, this machinery includes CNC spinner and cutting torches. We typically work with metals like steel, stainless steel, copper, and aluminum, but our team has experience with many other materials.
The process begins with the design. We work with designs that you create from your blueprints and drawings that meet your exact specifications. Then, we cut the metal using techniques like spinning,laser cutting and more.
Once we've cut the metal, we spinning it into round or other shapes. After we form all the pieces, we join them by welding, adhesives, riveting, fastening, or other methods best suited to the project. Finally, we apply a finish to the finished product to match your design.
Spinning fabrication leaves almost no room for error, and each step from cutting and spinning to powder coating requires precision. Our quality control practices mean that we catch and prevent mistakes early on, so you get uniform products every time.
Contact Wonder for Custom CNC Spinning
Wonder is a precision CNC Spinning parts machined supplier in China. With state-of-the-art laser cutter and skillful engineers, we can satisfy our customers' requirements, and produce the CNC Spinning parts from a prototype, low quantity to high volume production in good quality, competitive price and on-time deliveryand understands the specific methods for the best precision CNC Spinning. We also maintain our machining jobshop with fully updated equipment that can properly machine CNC Spinning materials.. So please feel free to contact us to quote your precision CNC Spinning parts by our cutting services.At Wonder, we can produce custom CNC Spinning for nearly any application. If you would like to learn more about our CNC Spinning capabilities, please contact us or request a quote today.